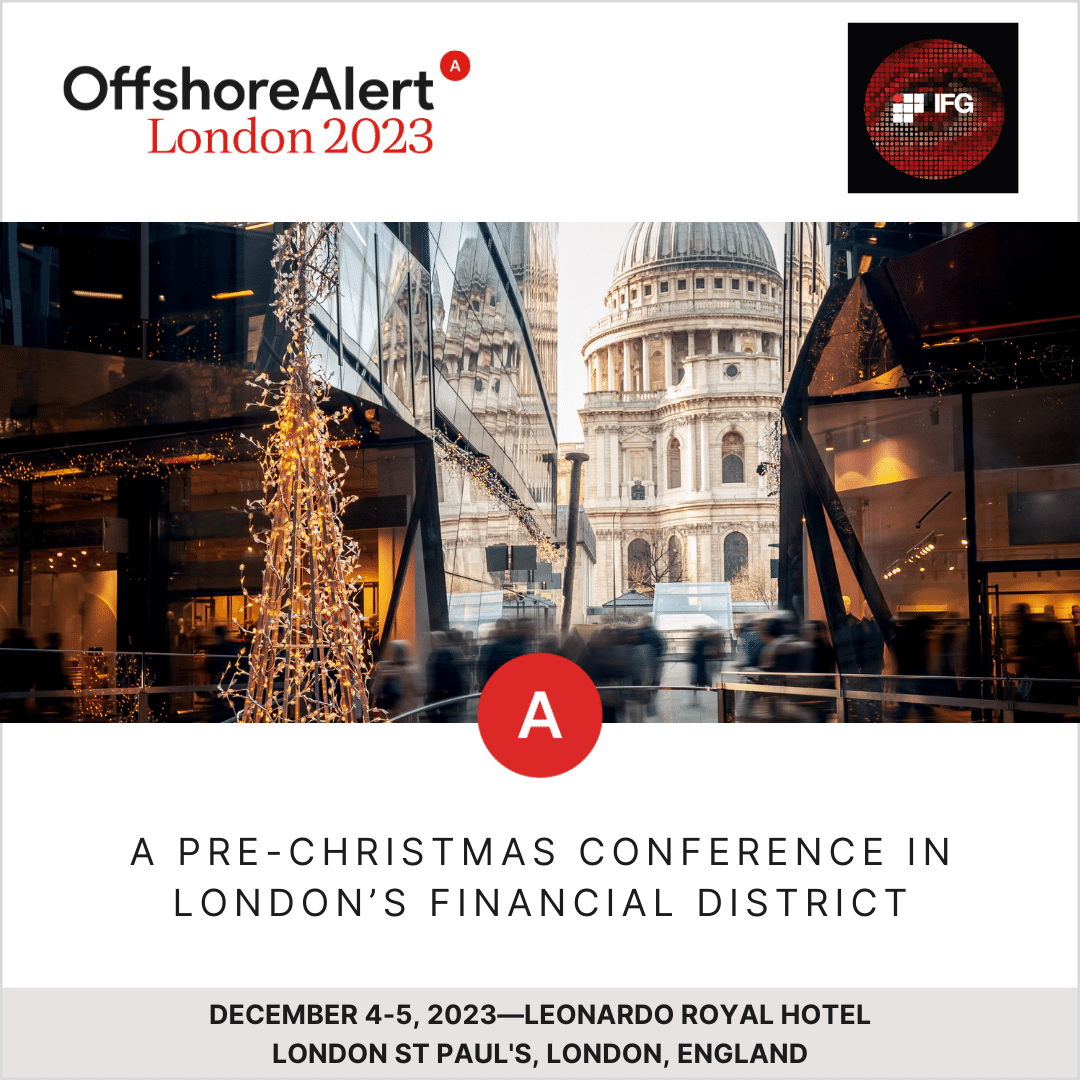 We are delighted to have been invited to engage in a co-marketing Partnership with one of the industries' most prestigious conference organisers OffshoreAlert, representing London 2023, Bangkok 2024, Miami 2024 https://www.offshorealert.com/events/ifg/
Event Information 
OffshoreAlert London
December 4 – 5, 2023 at the Leonardo Royal Hotel London St Paul's 10 Godliman St., London, United Kingdom
Launched in 2012, OffshoreAlert London is a pre-Christmas conference at which 300 registrants can enjoy the special festive atmosphere, entertainment, and shopping options that London offers at this time of the year and is ideal for combining business with pleasure.
Learn more: OffshoreAlert Conference London – OffshoreAlert
OffshoreAlert, Bangkok
February 28 – 29, 2024 at the Siam Kempinski Hotel Bangkok 991/9 Rama I Rd, Pathum Wan, Bangkok, Thailand
OffshoreAlert Bangkok is our first conference in the Asia-Pacific region and is designed to be a destination event to which attendees from several countries can fly in to combine business with pleasure at a resort hotel in the heart of one of the world's most exciting cities.
Learn more: OffshoreAlert Conference Bangkok – OffshoreAlert
OffshoreAlert Miami
April 14 – April 16, 2024 at The Ritz-Carlton, South Beach 1 Lincoln Rd, Miami Beach, FL, United States
Launched in 2002, OffshoreAlert Miami is our longest-running event – a destination conference that attracts 350 attendees from dozens of countries who combine business with pleasure, with several private dinners, parties, and other social events held in addition to our official functions.
Learn more: https: OffshoreAlert Conference Miami – OffshoreAlert